Kabale Town
Kabale is a town in the Western Region of Uganda. It is the chief town of Kabale District, and the district headquarters are located there. Sometimes nicknamed "Kastone" as in the local language Rukiga, a "kabale" is a small stone.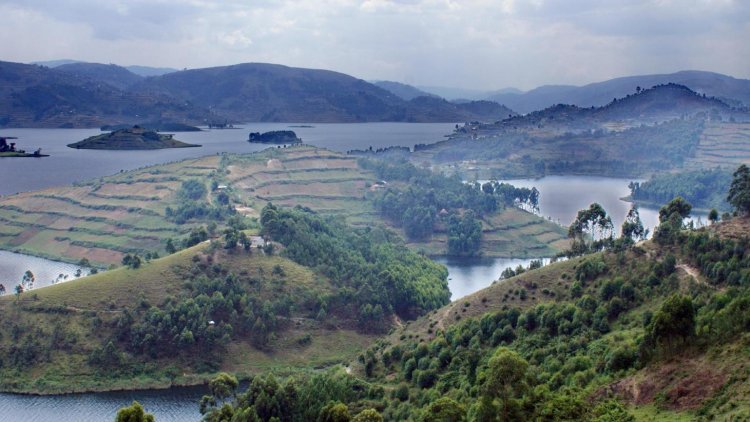 Location
Kabale Town is located Kabale District and is 10Km from Katuna the border with Rwanda. It is about 420 Km from Kampala City.
Kabale is located in the Kabale District of the Kigezi sub-region. It is about 142 kilometres (88 mi), by road, southwest of Mbarara, the largest city in the Western Region of Uganda.This is approximately 410 kilometres (250 mi), by road, southwest of Kampala, Uganda's capital and largest city.
Key attractions
The key attractions in Kabale include the following:
Lake Bunyonyi which is located 8 kms from Kabale Town.
Ihimba Hot Springs situated 8Km on Kabale-Katuna Road.
Rwesaza and Ngoha hills: Historical hiding places of the Banyoro from the Baganda during tribal wars.
Caves and Scenic Rocks, include Nyarujansi hill, Mirambi hill, Maingira, Kafufu, Mutengesa, Nabihura, Ngoma hill, Butale hill, Nyabisekembe hill, Nyakaro hill and Nyasononwa. Others are: Balibonensaro, Rukindo hill, Kahindoba, Bukaranga, Musima hill, Kamuroza, Kyema hill.
Wildlife Viewing in various forests which have Colobus Monkeys; Chimpazees and Baboons
Waterfalls
The Drum, found at Bukumi in Nkondo Sub-County which are believed to be the largest drum in East Africa. The drum belongs to Bukumi Christian Parish.
The Virunga Mountains which lie along the Rwanda-Dem Rep of Congo border are visible from the Kabale Town.
Points of interest
The other points of interest within the town limits or close to the edges of town include the following:
headquarters of

Kabale District Administration
offices of Kabale City Council
Kabale Regional Referral Hospital, a 250-bed public hospital administered by the

Uganda Ministry of Health
branch of the

National Social Security Fund
Kabale Currency Centre, a currency storage and processing facility owned and operated by the

Bank of Uganda, Uganda's

Central Bank
Kabale University, a government university
Kabale Airport, a civilian airport operated by Kabale Municipality
Kabale Campus of

Uganda Martyrs University
Kabale Golf Course
Rugarama Hospital 200 patient bed capacity Church of Uganda founded general Hospital
Rushoroza Hospital - 200 Patients bed capacity, manageged by the Catholic Church
Rushoroza Cathedral - seat of the Catholic diocese of Kabale, found in Kabale City
Radio Maria Uganda - Kabale Station, located on Rushoroza Hill
St Mary's College Rushoroza - Kabale, founded by the Catholic church
St Paul's Seminary Rushoroza - founded by the Catholic church
Kabale Airstrip
Kabale Airport lies approximately 311 km from Entebbe International Airport and is located about 5 km from Kabale Town.
Sources
What's Your Reaction?