Staying at Gorilla safari Lodge
When visiting Uganda, the best place to go on a mountain gorilla safari is Bwindi National Park. Over half of the world's mountain gorilla population lives in this park, making it a popular tourist destination.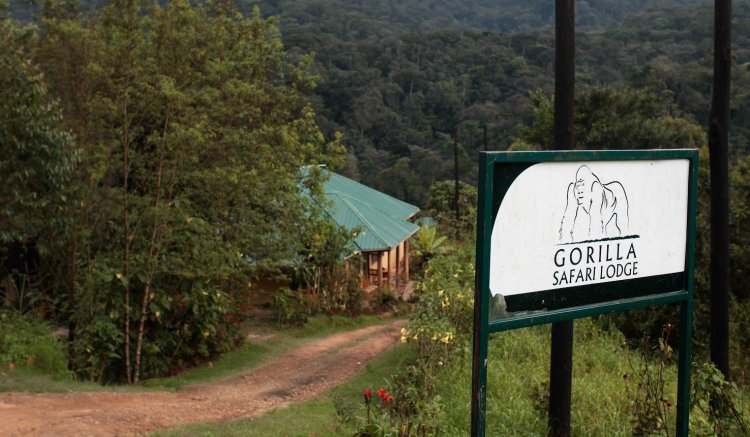 If you're planning a trip here, it's easy to find a place to stay in the neighbourhood. There are different places to stay in every part of the park, from tent sites to five-star, all-inclusive hotels.
When we were there, we stayed at the Gorilla Safari Lodge, which is owned and operated by Ugandans, because we wanted to do our part to help preserve the environment.
The Lodge
A Ugandan family owns and operates Gorilla Safari Lodge. Joan, the property manager, is absolutely lovely; she went above and beyond to ensure that my family and I had a fantastic time.
Gorilla Safari Lodge, in the Ruhija section of Bwindi National Park, is regarded as one of the top lodges in the area due to the exceptional services provided by its friendly employees.
Most of the lodge's visitors meet in the multipurpose hall, which features a bar, a restaurant, and a comfortable sitting area. Meeting other tourists is easy here, and we overheard tales of everyday gorilla tracking adventures. It was intriguing to hear about the many gorilla experiences people had, and it was exciting to learn about the exciting activities people participated in while in the area.
Due to the lodge's reliance on solar energy, the lobby is also the only spot where guests may use the internet and charge their devices. At this location, there is no power or internet connection in the rooms, and the internet is slow and limited (100 MB vouchers were offered at the bar).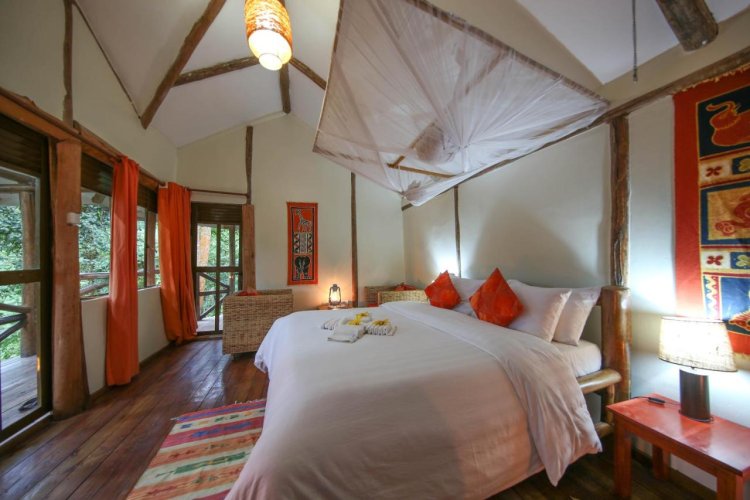 The Rooms
Rooms are either twin or double (must be requested at time of booking).
Each room has a wooden balcony with a view.
Balconies have chairs or couches.
Small seating area in rooms.
Gorilla Safari Lodge's accommodations are tastefully designed to complement their natural setting. Each room had an African theme and included a double bed, solar lights, a private bathroom with running hot and cold water, and flush toilets.
The veranda porch is furnished with a lounge area and provides stunning views of the surrounding jungle.
In addition, there is a gift shop for those tourists who want to take home some mementos. They also have a small library with plenty of books and resources about other destinations.
Even during peak season, the daily charge at the Gorilla Safari Lodge is only $200 per person, so the all-inclusive meal plan is an excellent value.
Coffee, tea, juices, fruits, pastries, and eggs cooked to order were all part of the breakfast spread. At both lunch and dinner, we each had a three-course meal customised to our preferences. The lunch menu would be offered right after breakfast, and the dinner menu would follow suit right after lunch. Every meal often includes meat, fish, and a vegetarian alternative. Some dishes had Indian influences (common in Uganda), while others had African ones.
It was nice to have something different to look forward to at each meal thanks to the daily rotation of the menu.
We ate in the hotel restaurant for every meal, and the timing of our meals was coordinated with our daily programme of events. When we were up early, breakfast was ready for us at 6 a.m., but when we slept in, the staff was still glad to serve us until 9 a.m.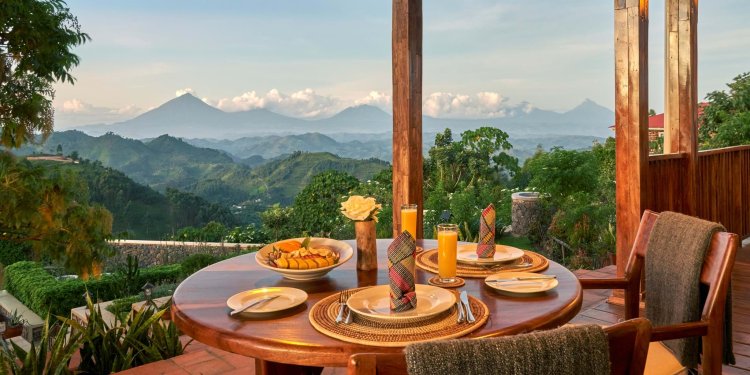 Gorilla Safari Lodge Attractions
Mountain gorilla tracking is the main draw for visitors to this area. Near Gorilla Safari Lodge is one of the largest and most popular groups of gorillas in Bwindi National Park. Of course, the gorillas are fantastic, but that's not all this area has to offer.
Getting to know the Batwa people who live in the Rushaga community was a highlight of our trip. The Bwatwa people used to reside in small caves within Bwindi National Park till the end of the 20th century. They were hunters, eating only what they could find in the woods. In the 1980s, the government made Bwindi a national park. The Bwatwa people were then kicked out of the forest and given a small village outside the park's boundaries. As a result, they have grown to rely heavily on tourism, which they promote by giving daily tours of their town to guests staying at nearby lodges.
Contact Details
Reservations can be made at crystallodgesuganda.com.
Visit https://gorillasafarilodge.com or call +256 39 3255214 or +256 200 909463.
What's Your Reaction?