Kyaninga lodge: The most beautiful lodge in Fortportal City
A tour to the the edge of an extinct volcanic crater lake at the foot of the rwenzori mountains where the great rift valley meets the mighty congo basin. Kyaninga Lodge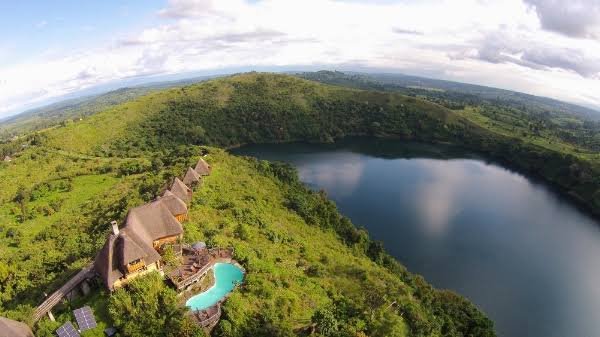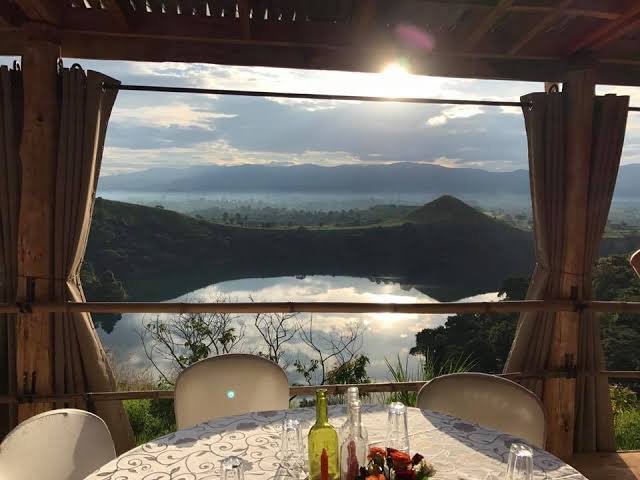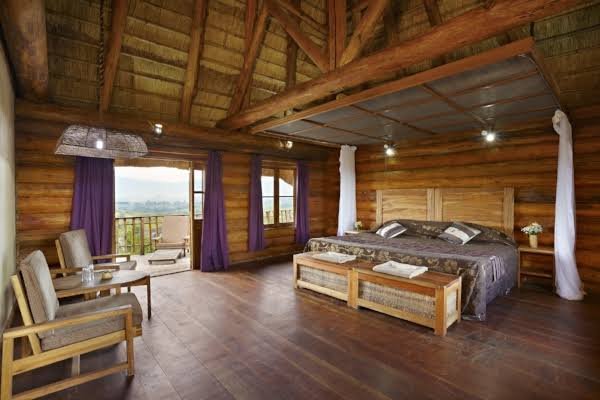 Introduction
Kyaninga Lodge is situated at Fort Portal, in the west of Uganda. This location is a gateway to the many great safari destinations in western Uganda.
The majority of visitors to Fort Portal tend to visit nearby Queen Elizabeth and Kibale National Parks. However, this region is also home to Kyaninga Lodge.
You may be wondering why we would recommend staying at Kyaninga Lodge. Well, this simple answer is because of the friendly staff and excellent service they provide. It is also because of the amazing location. The lodge is nestled On The Edge Of An Extinct Volcanic Crater Lake At The Foot Of The Rwenzori Mountains. The scenery is absolutely stunning.
The first thing you notice are the monkeys. You will notice two varieties of monkeys staying around the lodge, one is very cheeky.
The cottages
Nine exclusive cottages made from hand carved logs, superb dining, and a wealth of adventures await.
There are two kinds of cottages, a triple cottage and a double cottage.
Each spacious cottage comes with a choice of twin or double beds made up with the softest bed linen and feather pillows. An indoor seating area leads out to a private deck where you can enjoy morning tea or coffee with views over the lake and the Rwenzori Mountains.
Every cottage has its own balcony. And can be customized to the guest's liking, for example one can have two or three chairs set up.
The nice bath. You will love the ceramic, everything is so well decorated, it's so cute, all the details are so nice. There's a little cupboard. There's even a safe.
A double cottage will cost you $ 340 for two people per night full board
A triple is $ 460 per night full board.
Meaning breakfast, lunch and dinner are all included, apart from drinks at the bar and the Spa.
So you will have to pay extra for the drinks and use the spa. Activities like swimming at the lake.
But before we continue, we'll give you a little background about Kyaninga Lodge.
About Kyaninga lodge
How long has the lodge been in operation?
Kyaninga lodge turned 11 Years in December 2021.
What was here before the lodge?
It was just an empty piece of land. Locals used the land to fetch firewood, they had their farms, growing potatoes. All these trees were re-afforested by the owner. The trees include eucalyptus, bamboo.
Kyaninga Lodge is owned by Steve Williams and he's from England. Steven started building Kyaninga lodge in 2004 and officially opened in 2010. Steven lives here with his family. He married a Ugandan wife, which makes him Ugandan.
How is Kyaninga lodge benefiting the community?
Kyaninga forest foundation.
Mr. Steve is doing a wonderful job in this community by replanting trees in areas around the lake, and now he's planting trees in the whole community at zero cost. This project was named the kyaninga forest foundation. During the construction of the lodge, all the logs and wood, used to make the cottages, was gotten from around so this is a way of giving back by planting trees.
Mobility workshop.
Somewhere in the middle of the eucalyptus trees, there's a building under construction.
This will be a mobility workshop, producing equipment to support children living with disabilities. Because Steven has a disabled child, he was inspired to set up a place to help all the children with disabilities in the community.
Kyaninga Dairy.
There is also a farm with goats and cows. They are reared for milk. This is called the Kyaninga diary. They make cheese and all the profits from the cheese goes to charity i.e. the child development center. It's a charity for children living with disabilities.
Education.
There's an education hub. It is an inclusive model school for both children living with disabilities and normal ones. It's also used as an event hall for marathons.
There is going to be triathlon on 4th of June 2022
All the proceeds of the events go to charity as well.
Kyaninga Child Development Centre
Based in Fort Portal, in the Kabarole District of western Uganda, KCDC was established to provide much needed high quality, specialised and affordable assessment, treatment, education and support to children with disabilities, and their families and carers, to enable them to lead more independent lives.
Environmentally friendly
Kyaninga cottage is eco-friendly. It operates seventy five percent (75%) on solar and twenty-five percent (25%) on generators.
Now we head back to the dining room.
The dinning
The finest 3-course cuisine awaits you prepared by the chef. You are infomed what the chef will be preparing. In case you have any dietary issues or medical restrictions, the meals can be adjusted accordingly.
All the guests come in here for breakfast, lunch and dinner which is included on the full board package. The meals are also available to visitors even when they are not staying in the lodge, but you just have to book in advance or you might not be allowed in because the facility can only accommodate a limited number of people.
For visitors not staying at the lodge, Lunch is 75,000/= and dinner is 85,000/= per person which is about $21 - $25.
There's a gallery upstairs, which is part of the dining room. For special events like a honeymoon, anniversaries or just for privacy and you get this amazing view.
The lounge.
The lounge is equipped with a fireplace which is lit every evening. Everyone just sits around and has a chat. You'll also see some great artwork hanging on the walls. I was told that some of it is from Kampala while some is locally made. From this artwork, you can buy yourself a souvenir as well.
The sunset at this place is something you should not miss at any cost. It is something that you will cherish for a long time.
On the opposite side there is a balcony for the sunrise. We are sure that this beautiful view will make you feel like you are in paradise.
Mr. Steve, the owner, is the architect of kyaninga lodge. He did much of the woodwork himself.
Kyaninga Lodge has a spa as well, a mini gym and a sauna. If you are into sports, there are facilities for lawn tennis, croquet, badminton and boules.
All the cottages have a view of the lake
Kyaninga lodge Contact.
You contact Kyaninga lodge on;
Email: [email protected]
Tell: +256 772 999750
Website: https://www.kyaningalodge.com/
Conclusion
This concludes our beautiful story of a guy named Steve that came out here, found this place, and decided to turn it into something beautiful. Where people can come and visit, in turn helping the community because everything is bought locally and the people working here are benefiting from the lodge.
So I'd recommend anyone coming to western Uganda, to come and visit Kyaninga Lodge.
What's Your Reaction?