The guide to Lake Mutanda - See the Magnificent Isles
Near the Bwindi Impenetrable Forest and Mgahinga Gorilla National Park in extreme southwest Uganda is a small freshwater lake called Lake Mutanda. The Rutshuru River drains it, and it travels to Lake Edward in the north. The distance between Kisoro's downtown and Lake Mutanda is 30 minutes by car. It is a fantastic hiking location with breathtaking views of the Virunga Mountains at a height of 1,800 m.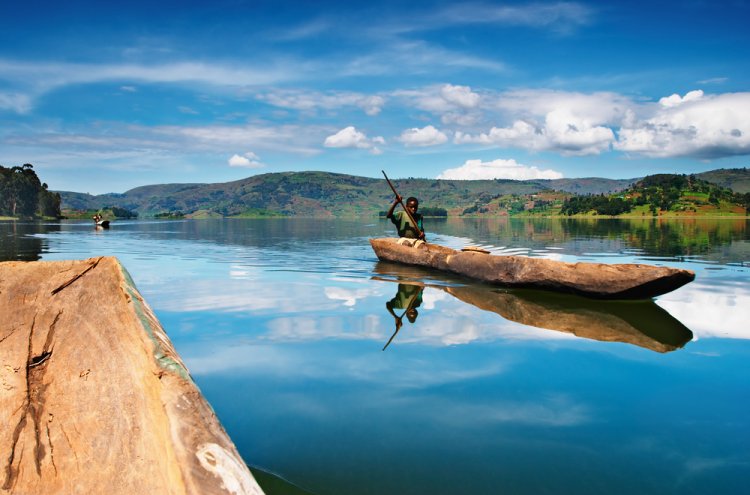 Where is Lake Mutanda?
Beautiful Lake Mutanda, situated in the Kisoro District of southwest Uganda, is a popular base camp for gorilla trackers, bird watchers, and volcano trekkers going on excursions into the Bwindi Impenetrable Forest or Mgahinga National Park. It is surrounded by a string of misty volcanoes.
Lake Mutanda has remained pristine and peaceful due to its remote location and limited lodging options. The freshwater lake, which is situated in an area aptly known as "Little Switzerland," draws a variety of birds to its shores, including Uganda's national bird, the grey-crowned crane. Pelicans, Hadada ibis, African spoonbills, sacred ibis, kites, hawks, and buzzards are frequent sights on bird-watching boat trips. The lake is also home to the rare African clawless otter.
In addition, Lake Mutanda is one of the few lakes in Uganda where swimming is safe (there are no dangers from bilharzia, hippos, or crocodiles) as well as canoeing or using a traditional dug-out canoe.
Fun information about Lake Mutanda
Size of Lake Mutanda: Lake Mutanda covers an area of 22 square kilometres.
The Rutshuru River was dammed by a lava flow from the Virunga Volcanoes several thousand years ago, leading to the formation of Lake Mutanda.
The Lake is too cold for crocodiles, and in the 1990s, hippos were hunted to extinction.
Since there haven't been any cases of bilharzia reported in Lake Mutanda, the area is bilharzia-free.
There are twelve inhabited and uninhabited islands in Lake Mutanda. The are listed below.
Off-the-beaten-Tourist-Path: Despite Lake Mutanda's more picturesque surroundings, there are fewer tourists here than at Lake Bunyonyi.
Safe and Secure: Lake Mutanda is a location that is safe and secure.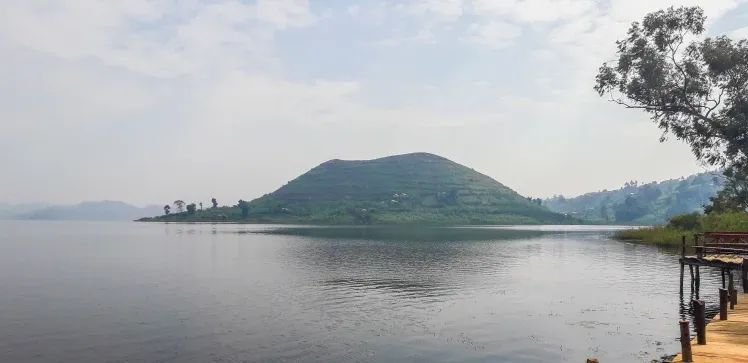 Lake Mtanada's top attractions
Volcanoes near Lake Mtanda
Mount Muhabura, Mount Sabyinyo, and Mount Gahinga are three extinct volcanoes that can be seen from the lake.
You should bring a pair of sturdy walking boots if you enjoy hiking because you won't want to miss the breathtaking views that these walks offer.
Muhabura Mountain
In Kinyarwanda, the national tongue of Rwanda, Mount Muhabura is translated as "the guide." Mount Muhabura, the third-highest mountain in the Virunga Mountains, has an elevation of 4,127m.
This strenuous hike, which is on rocky terrain with a gradual incline, usually requires an entire day.
Although the hike is strenuous physically, the views of Lake Edward, Bwindi, and the top of the Rwenzori Mountains are breathtaking.
Don't forget to bring a camera so you can record the breathtaking panoramic view. You'll think about it for a long time.
Gahinga Mountain
Mount Gahinga is lower in elevation than Mount Muhabura and Mount Sabyinyo at 3,473m. Gahinga is Kinyarwanda for "a pile of stones."
Since the hike is easier, novice hikers can complete it. You must purchase a hiking permit ($75) and show up for a health and safety briefing the day of your hike.
On the slopes of Mount Gahinga, bamboo grows abundantly, and you can visit bamboo forests that are home to a wide variety of animals, including the critically endangered mountain gorilla and the regal sunbird.
The leisurely six-hour hike along a gentle incline starts at seven in the morning.
Sabyinyo Mountain
Due to the summit's resemblance to worn teeth, Mount Sabyinyo is also referred to locally as "Old Man's Teeth." With a height of 3,669 metres, Mount Sabyinyo is the oldest volcano in the range.
There are numerous hiking trails with different levels of difficulty. It has three peaks, the first of which is the Sabyinyo Gorge, a place with a lot of vegetation. It's a well-known place for bird watching, but watch out for golden monkeys!
The second peak involves walking between Rwanda and Uganda.
The third peak presents difficulties. Along with using ladders, you will be fumbling with your hands. But if you're up for the challenge, you'll simultaneously be in Rwanda, Uganda, and Congo.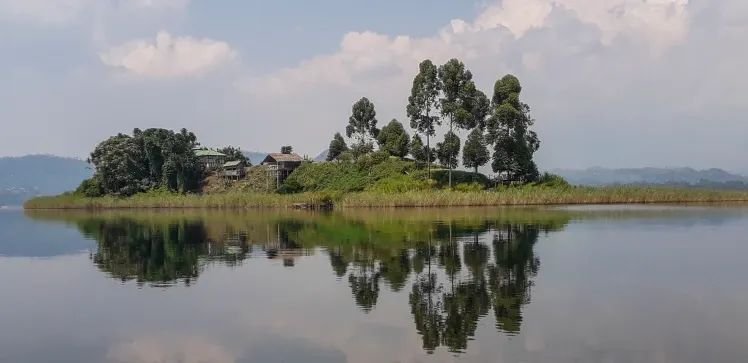 Wildlife
A small variety of bird species, including kingfishers and the grey-crowned crane, Uganda's national bird, can be found at Lake Mutanda.
Pin-tailed whydahs and sunbirds are more frequent due to the area's high elevation and chilly climate. Nevertheless, watch out for weaver bird nests!
If you go for a walk, you might see chameleons, snakes, and various frog species.
Lake Mutanda has historically seen hippos, but not since 1994. On the water, however, you will only encounter fish and African clawless otters.
Nearby national parks include Bwindi Impenetrable and Mgahinga Gorilla. Both are home to a variety of wildlife.
Lake Mutanda's Cultural Interactions
If you don't interact with the locals here, your time on Lake Mutanda is incomplete. That includes the Batwa, who were the original inhabitants of the forest and stayed in this region for a very long time before other ethnic groups moved to what is now southwest Uganda.
Native Batwa people lived as nomadic hunters and gatherers, building only temporary shelters to last until the seasons changed or a member of their community passed away.
The Batwa have lived as conservation refugees outside of their cherished forest since they were driven out of Mgahinga Gorilla Park and Bwindi Impenetrable Forest in 1991.
The Batwa, who were the forest's original inhabitants, can still be seen today, and you can see and experience the forest through their eyes.
You can spend time with the Batwa while travelling along Lake Mutanda by taking a forest walk with them and then visiting one of their villages after experiencing the Batwa Trail in Mgahinga Gorilla Park or the Batwa Buniga Forest Walk. You would gain a new perspective on culture from it.
The First People of the Forest on the Mgahinga Park's Batwa Trail
Activities at Lake Mtanda
Exploration of Islands
By dugout canoe, kayak, or motorboat, you can spend a day exploring 12 emerald, green islands. Here is a list of things you might like to do.
Range (Bird) Island
The African Shoebill, Black-Headed Heron, Sacred Ibis, White-Breasted Cormorants, and Black Kite are among the birds that breed on this tiny island.
Hampinzi Island
Legends claim that this island was once much more well-known. When the locals refused to share some of their sorghum beer with a visiting witch, the witch cast a spell that caused the island to sink into the lakes and killed those who wouldn't share. You will hear one of the numerous iterations of that myth that have been passed down orally through the ages.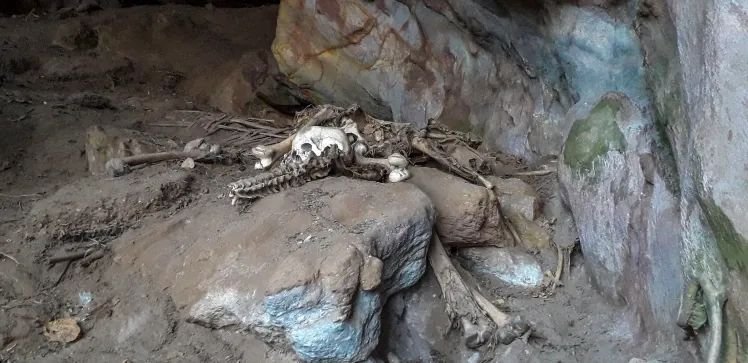 Kabaya Island
An important spirit person was interred in this tiny cave because it was believed that if they weren't, their death would unleash havoc on the mainland.
Traditional ancestral worship and rituals are still performed here today, particularly in August when sorghum is being harvested.
Here, the native forest is unaltered. Here, birdwatchers can see forest birds like the Ross Turaco and Bee-Eaters. You can see pink-backed pelicans and black-headed night herons along the western shore.
Mutanda Island:
On the largest island, there are 200 residents who work in farming and fishing. The highest hill is located here, and there is a short but steep trail that leads to its summit, where you can get fantastic views of the Virunga Volcano Chain.
Kyangushu Island:
Unmarried, pregnant women used to be exiled to this pine-covered island and left to starve to death. The only option was for a man who couldn't afford the cost of a bride to come here and choose a woman to be his wife, allowing her to live.
Buhungiro Island:
According to legend, a group of fishermen fled to this location to seek safety from a sizable Batwa tribe who were brandishing spears. A native forest is also present on this island.
Boating Activities:
You can engage in a variety of boating activities on the lake.
Dugout canoeing: Use a dugout canoe that has been prepared the same way every time to paddle on the lake's hollowed-out tree.
Kayaking is ideal for an island-hopping day.
The simplest way to travel around Lake Mutanda is by motorboat.
Stand-Up Paddleboarding: Mutanda Lake Resort offers this activity.
Catch your dinner while fishing from a boat on Lake Mutanda with a local angler.

Take a Sundowner Sunset Cruise on Lake Mutanda to enjoy the sunset. Hopefully there will be some Samosas made at your lodge. Try Uganda Waragi with a Krest Bitter Lemon, which has become a popular tourist attraction in Uganda.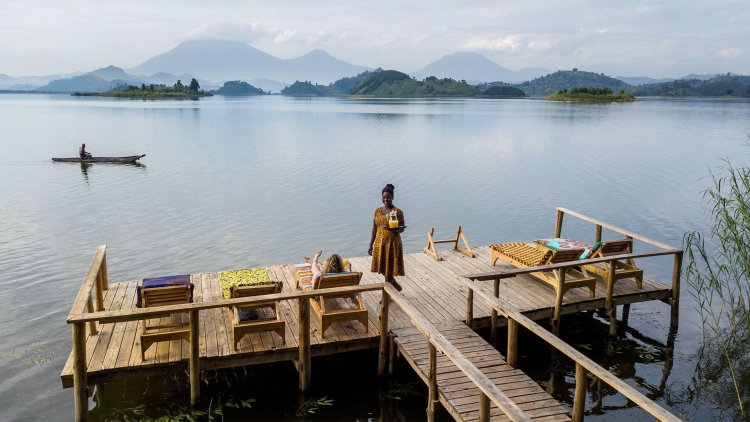 A place to stay at Lake Mutanda
Mutanda Lake Resort
The Mutanda Lake Resort is the ideal starting point for your Lake Mutanda adventures. Select from the Standard or Luxury Cottages, both of which offer breathtaking views of Lake Mutanda.
The restaurant's talented chefs serve a variety of delectable foods in a setting that blends Swiss chalet and African architecture. Its herbs and vegetables are grown in the resort's garden and are hand-picked.
As you enjoy your preferred evening beverage while watching the sun set over Lake Mutanda, the bar is fully stocked.
Mutanda Eco Community Centre
a community-owned eco-lodge situated on Lake Mutanda's southern shore. There are accommodations, food, and camping amenities available.
During your visit, you can even participate in their volunteer programs to help the community.
Children's swimming lessons, work at health clinics, and conservation education at the nearby Chihe Primary School are all included in the volunteer experience.
Chameleon Hill Lodge:
With its hilltop location and expansive views of Lake Mutanda, Chameleon Hill Lodge resembles a fairytale castle. The upscale lodge looks like it belongs in a coloring book for kids. It's a new breed of lodge that marches to a different drummer, which is refreshing.
The emphasis of the placement of the private cottages on this expansive ridge is on privacy and views. The rooms have a double bed or twin beds, and they are tastefully decorated with modern Ugandan art.
The lake and the Virunga Volcanoes can be seen from the private balconies of each cottage. An ideal location to unwind with a drink after a day of island exploration.
The lodge provides a variety of activities, such as dugout canoeing, boat rides, village walks, coffee farm visits, and motorboat cruises.
What time of year is ideal for visiting Lake Mutanda?
The dry seasons, which run from June to September and December to February, are the ideal times to visit Lake Mutanda.
The rainiest months are late March, April, and early May, with late October and early November seeing another peak. While June, July, August, and September are cooler and primarily dry, late December, January, and February are frequently hot and dry.
During the rainy seasons, the hiking slopes around Lake Mutanda will be more difficult. We advise going during the dry seasons so you can concentrate on the scenery rather than the treacherous hiking trail.
What's Your Reaction?