The Best Ziplining adventure destinations in Uganda - The Ultimate Guide
Zipping over Uganda gives you the opportunity to explore some of Africa's most beautiful landscapes and wildlife. In this article, we present seven zipping experiences that will take your breath away and give you an unforgettable adventure.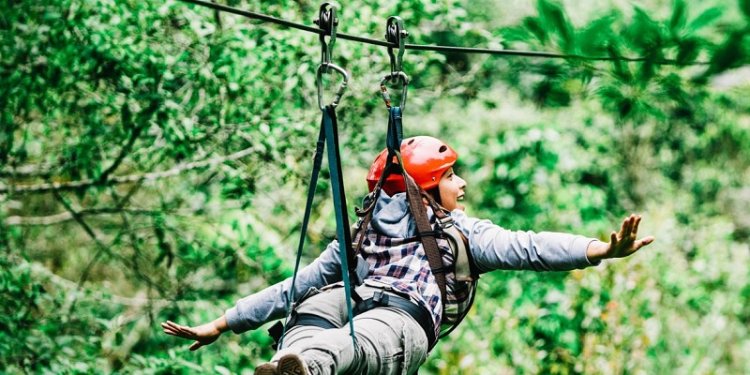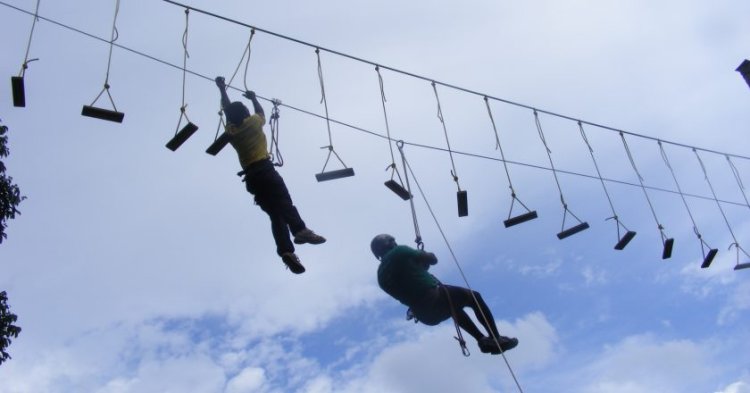 What is Ziplining and Why is it So Popular?
Zip lining (also known as ziplining) is a sport in which participants "zip" between platforms on a series of cables.
Zip line courses can be made up of one or more cables suspended between natural or artificial structures. Participants are suspended from a pulley that slides across the wire, propelled by gravity, and are frequently referred to as "zippers." Ascending from a higher to a lower place, the cables are mounted. The participant moves between points at a certain speed depending on the amount of inclination and the weight of the zipper.
Zip line courses can be designed purely for speed (adrenaline rush), while others are designed to allow zippers to enjoy the natural surroundings such as forest, jungle, or waterfalls (often referred to as canopy tours). Others employ elements of both.
The Best Ziplining Adventure Destinations in Uganda - Top 7 Picks!
1. Adonai Adventure Park
One stop centre for adrenaline filled activities including paintballing, zip lining, high ropes course, wall climbing, target range and team building.
Location: Nyanama, Kampala, Central Uganda.
2. Forest Park resort
Forest Park Resort, one of Uganda's quietly preserved recreation centres is located just outside Kampala city in Buloba, along Mityana Road.
The resort is suitable for conference meetings , workshops , team-building activities, and outdoor games such as soccer , volleyball, sack racing , Zip lining, water sports , and swimming.
3. Extreme Adventure Park - Busika
Extreme Adventure Park Busika offers two ziplines of 147 metres each for all guests to zip away under a clear skyline. Both ziplines begin with obstacle challenges and a zipline as a reward for a successful finish. If you love a good challenge, fun and an adrenaline rush, then this is for you.
Location: Plot 331 Musiniro Rd., Buika
+256 393 266 915
4. Griffin Falls camp in the Mabira forest
Experiencing the Mabira Forest canopy just makes you behave like a monkey! The first of its kind in Uganda. The Mabira Forest Canopy Super Skyway is a canopy "zip-line" system that sends you soaring between the tallest trees in the rainforest. Located 44kms east of Kampala City, outside of Lugazi Town at the Griffin Falls Camp, the Skyway makes for a great day.
Zip-line activities are done from 8am in the morning to 1pm and from 2pm to 6pm daily.
Location: Mabira Forest, Kampala - Jinja Highway.
5. Lakeside Adventure Park
High Ropes Levels 1 & 2
This is an activity built professionally at varying heights attached to metal cables through obstacles, i.e., zip-lines, rafts, cargo nets, swings, and many others to build confidence and self-esteem.
Address: Plot 33 Luthuli Avenue, Bugolobi (opp. Nice House of Plastics), Uganda
+256 (0) 784 047064
6. Shoebill Adventure Park
The island is only about 8 kilometres from Entebbe town and can be reached within 40 min by motorised canoe or 15 min by speedboat. It is in the vicinity of Entebbe international airport and has a great view of the Entebbe Peninsula.
The Park offers an aerial rope adventure challenge with 3 levels of difficulty all ending in a zip line down to a sandy beach.
Address: Bussi Island, Entebbe
Phone: + 256 773 002 553 / + 256 777 288 204
7. Supreme Adventure Park Bunyonyi
It's a haven for various species of birds and, of course, the only place with a high ropes course and the ONLY zip-line across one of the deepest lakes on Earth.
+256 772 423215/+256 753 333012/+256 753741768.
P.O Box 26531, Kampala, Uganda
How to Prepare for a Zipping Experience in Uganda
Professional zip line courses offer mandatory training sessions for participants. During the training sessions guides teach participants proper form, how to take off from a platform, how to land on a platform and how to break/slow down. Depending on the complexity and difficulty of the course, training sessions can take anywhere from a few minutes to a half-hour.
Safety ziplining gear
Be sure you are provided with and wear a helmet, leather or suede gloves (if using your hands to break or slow down), and that the course has a good safety record. Professional US zip line courses often have double cables, ensuring that if one cable is compromised, a second will continue to carry the zipper. It is also important to adhere to all safety requirements given during the training session and to advise the guides of any health issues.
conclusion;
We would love to hear about your zip-lining experience in Uganda and if there is any place worth mentioning, please leave a comment.
What's Your Reaction?