Lake Bunyonyi : Place of many little birds
Known as the "Place of many little birds," Lake Bunyonyi may be found in southwestern Uganda, between Kisoro and Kabale, and is not far from the Rwandan border. At least twenty little islands dot the surface of the lake, which is framed by steep terraced hills, diverse rural landscapes, and the Virunga Mountains.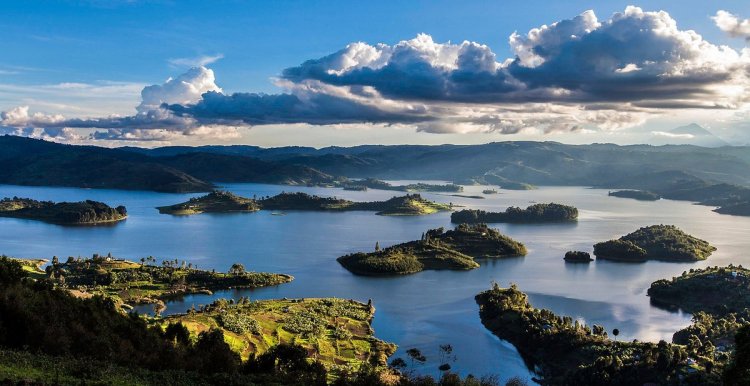 Known as the "Place of many little birds," Lake Bunyonyi may be found in southwestern Uganda, between Kisoro and Kabale, and is not far from the Rwandan border. At least twenty small islands dot the surface of the lake, which is surrounded by steep terraced hills, different rural landscapes, and the Virunga Mountains. Day trips from Kabale are becoming increasingly common as more and more attractions, restaurants, and hotels have opened up in and around the lake. There are a lot of cheap hotels, campgrounds, and resorts in and around the small fishing town of Rutinda, which is also called Kyabahinga.
Bunyonyi means "small birds" in the local language. It was named for the many weaver colonies that lived there. There are also larger birds like herons and egrets, as well as smaller ones like grey-crowned cranes and African harrier hawks. A few of the other birds that are often seen here are the levillant cuckoo, the white-tailed monad, the slender-billed baglafetch, the cardinal woodpecker, and the African kingfisher.
Ecology
One of the safest lakes in Africa is Lake Bunyonyi. Crocodiles, hippos, and bilharzia are not a problem here.
Instead, over 200 different bird species make their home on the island. To spend hours learning about everything from weaver birds to grey-crowned cranes, all you need is a notebook and a pair of binoculars. Those interested in birds will find this the ideal location.
There aren't many aquatic animals that can be found in this highland lake by themselves, with the exception of waterfowl, because of its proximity to the Nile basin but lack of actual connection.
All three frogs (De Witte's clawed frog, Lake Victoria clawed frog ("bunyoniensis" form), and otter are all native animals, albeit only the former is still commonly found in the lake today. The lake is home to four endemic species of Caridina shrimp, and there are hints that these shrimp can also be found in nearby Lake Mutanda. The once fishless lake now has catfish (Clarias liocephalus), Nile tilapia, Singida tilapia, haplochromine cichlids (which are native to Lake Victoria), and red swamp crayfish.
Aquatic plants such as papyrus, swamp sawgrass (subspecies jamaicense), and blue lotus can be found in abundance in some areas.
Explore the Lake Bunyonyi islands.
There are several islands in the lake, and they all have fascinating histories. However, Akampene, Bwama, and Njuyeera are the three most commonly mentioned.
Akampene (Punishment Island)
Pregnancy outside of wedlock was frowned upon in Uganda until the early 20th century.
Pregnant women who weren't married by the Bakiga were left on this small island, where they often died of starvation or tried to swim to the mainland but drowned because they didn't know how to swim. This was done to send a message to the others, warning them against following suit. Even if he didn't have enough cows to cover the bride price, a man might still travel to the island and bring back a bride. During the first half of the twentieth century, people stopped doing this.
Bwama island
Leonard Sharp, an English missionary who had moved to this part of Uganda in 1921, was the first person to build a leprosy treatment centre on the lonely island of Bwama in 1931.
It included a church, patient housing (called "model villages"), and a medical centre.
In spite of the fact that the centre closed in the 1980s, two boarding schools are currently making use of the former hospital facilities.
Njuyeera (Sharp's Island)
Leonard Sharp, MD, and his family settled in Njuyeera in 1931. Mrs. Sharp devoted a great deal of time and energy to cultivating the island's famed flora, which included trees, bushes, fruits, and vegetables. The island was affectionately christened "White Cottage" after the family house. Even though she had a lot going on, she became known for her green thumb and positive attitude.
Mrs. Sharp kept a log book of all the guests who visited the island. School field trip groups would often go to the gardens, tennis court, boathouse, and guest cottage.
Since Njuyeera was recently turned into a huge hotel, it has lost a lot of its historical value.
To explore the lake or spend the night on one of the islands, rent a dugout or motorboat at Rutinda Jetty. Expect to pay around 20k shillings each way for the ten to fifteen minute motorboat travel to Byoona Amagara or Bushara Island, or 10k per person for the thirty to forty five minute ride in a dugout canoe, however these prices are negotiable. The nearest but more expensive option is Bushara Island, rather than Byoona Amagara.
What are some of the most enjoyable things to do near Lake Bunyonyi?
Over 200 different types of birds call Lake Bunyonyi home, and its verdant, terraced hills are a major tourist draw. Some migrating birds and aquatic birds have come together to create this unique environment. So many people love birds for this reason. Exploring the Nyombi wetland by diving into it shows many different species of birds. The area offers a variety of activities besides just birdwatching. Activities like swimming, sailing, and horseback riding fall under this category. A number of hikes and nature walks crisscross the region, each of which provides more than simply fresh air and scenery. Stops at the Bakiga Cultural Museum and the blacksmith sites give the community walks an air of traditional culture. The nearby village of Bufuka is a good place to learn more about Batwa and Bakiga culture.
Directions to Lake Bunyonyi
This lake is in the southwestern part of Uganda, between Kabale (which is 53 km away) and Kisoro (which is 48 km away).
Travelling by matatu (minibus) from Kampala to Kabale will take about 6.5 hours and put you within striking distance of the lake. Getting there from Kabale in a cab or rented automobile takes about an hour and a half.
If you want, you can take a flight from Entebbe to Kihihi, which will only take you about an hour and a half. A taxi or rented car may take you from Kihihi to Lake Bunyonyi in around three hours.
Kabale and Rutinda, the heart of Lake Bunyonyi's tourist industry, are linked by a dirt road that is accessible in any weather. When leaving Kabale, stay on the Kisoro Road for 500 metres if you're driving solo. Just after you drive by a Kobil gas station, you'll come to a fork in the road with signs pointing in different directions, including a left turn to several lakeside resorts. After travelling for about 5 kilometres, you will come to a five-way intersection on the hill above Bunyonyi. Acacia Cottages are on the left, but if you keep walking straight, you'll reach Rutinda in another 2 kilometres.
After around 20 kilometres, you'll reach Muko, where you can reconnect with the major Kabale—Kisoro route and take in the breathtaking vistas of the lake.
The parking area on Rutinda on Bushara Island is a safe place for visitors to leave their cars while they explore the island. For a small fee, you can leave your car safely on the mainland at Lake Bunyonyi Overland Camp.
For those without their own transportation, the Lake Bunyonyi Overland Camp offers a shuttle to Rutinda that leaves Kabale in front of the Highland Inn at 9:30 and 16:00 every day. The price per person is 5,000 Kenyan Shillings. Subject to demand, it can accommodate a group but not a single traveller.
On market days (Monday and Friday), minibus taxis and pick-up trucks charge 5 shillings to go between Kabale and Rutinda, but service is spotty on other days. A private taxi to Rutinda will cost you about 50k, while a boda-boda will cost you about half of that.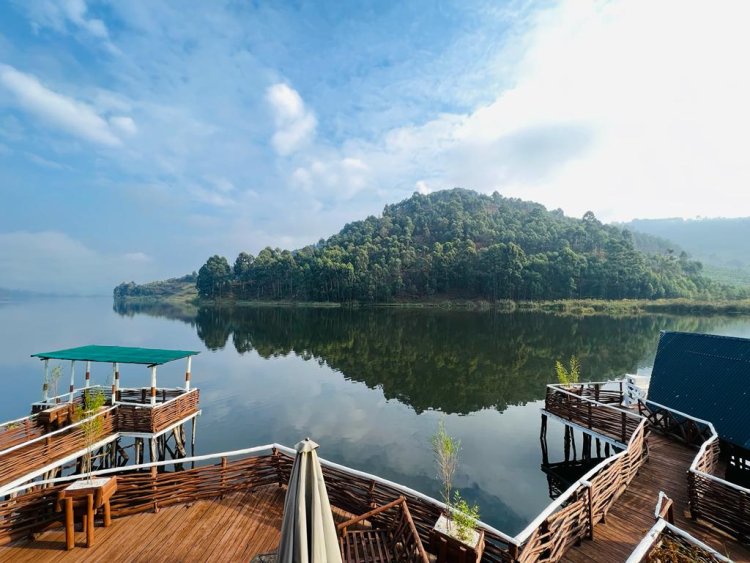 Lake Bunyonyi lodgings.
You can choose from a variety of camping spots and hotels in the area around the lake.
Bunyonyi Overland Resort has cottages, mobile tents, and equipped safari tents if you're looking for a camping experience. Although Kalebas and Crater Bay are closer and more peaceful alternatives,
Hotels include;
Byoona Amagara, Itambira Island
For reservations at Lake Bunyonyi, please contact them at +256-752-652788 or email us at [email protected].
Those lovely Arcadia Cabins
Conservation and Tourism in Africa: Kyabahinga, Africa Explorer Eco Village
Email: [email protected] Location: Kirangara, Thailand Beach: Lost
Bugombe Island Gateway
Tell: 256757953545.
For further information, please contact Bunyonyi View Resort at +256772666331, or email them at [email protected].
..and many others.
What's Your Reaction?