Ngamba Island (Chimp Sanctuary)
Welcome to Ngamba Island A peaceful home for rescued and orphaned chimps. Surrounded by the peaceful waters of Lake Victoria, Ngamba Island Chimpanzee Sanctuary is home to over 50 orphaned and rescued chimpanzees. Chimpanzee Sanctuary and Wildlife Conservation Trust (Chimpanzee Trust), an NGO, is responsible for all aspects of the sanctuary.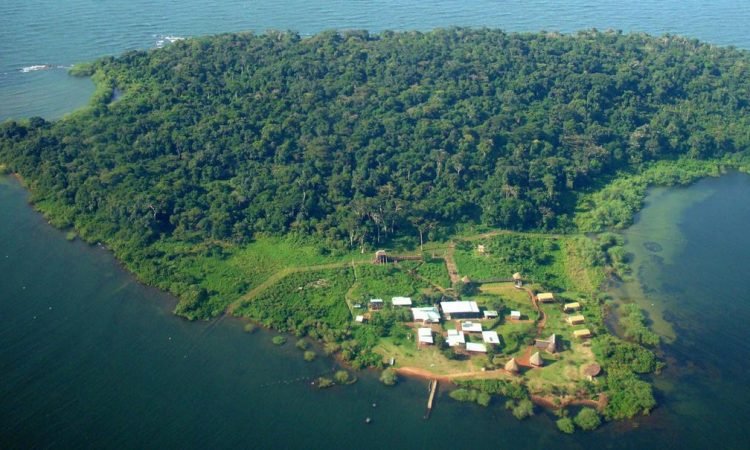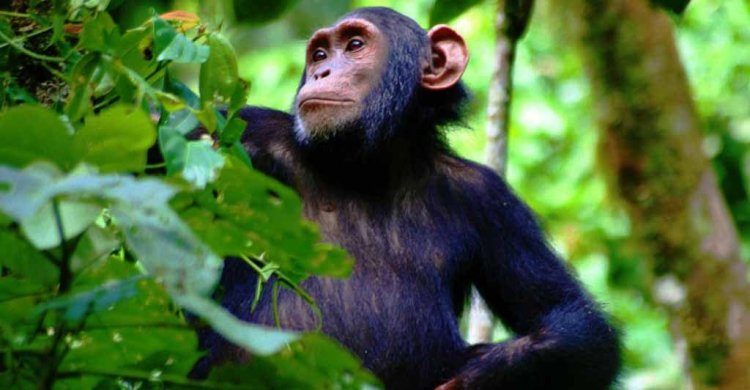 The Koome group of islands, which also includes the islands of Kiimi, Nsadzi, Koome, Bulago, and Damba, is made up of numerous islands in Lake Victoria. Ngamba Chimp sanctuary is located on 100 acres of flat, dry land, with 98 percent of the area being covered in forest, where the chimpanzees hunt and scavenge for food.
The location of the island
100 acres (40 ha) of tropical rainforest make up Ngamba Island, which is in Lake Victoria in Uganda, close to the equator and is accessible by boat from Entebbe at a distance of around 27 kilometres (17 mi). The island is home to a wide variety of wild animals and offers the chimpanzees a wide range of natural meals. With composting toilets, rainwater collection, appropriate waste management techniques, and solar energy for electricity and hot water, it is designed as an environmentally friendly project.
About Ngamba Chimp sanctuary:
The Chimpanzee Sanctuary and Wildlife Conservation Trust (CSWCT), a non-profit organisation, founded it in 1998 with the goal of preserving and protecting chimpanzees in Uganda that were on the verge of extinction due to human activities like poaching, deforestation, and some of them being domesticated as pets.
CSWCT is a partnership of six organisations committed to the welfare and conservation of wildlife. The Trustees are:
Born Free Foundation

International Fund for Animal Welfare

Jane Goodall Institute

Uganda Wildlife Education Centre

Environmental Conservation Trust of Uganda (ECOTRUST)

Uganda Wildlife Society
The largest known chimpanzee refuge in Uganda is currently Ngamba Island (Chimp Sanctuary), which welcomes tourists all year long. Visitors can find lodging on the island, which is fenced off from the forest by an electric fence. Visitors to the island can engage in a variety of activities, such as caregiving, where they help with daily tasks like cleaning and feeding the chimpanzees, fishing, bird viewing, and sunset cruises on the lake.
The other Islands are occupied by finishing villages. An overnight stay at the Ngamba can also provide enough time to pay a visit to some of these Islands.
Chimpanzees have routine medical examinations to make sure they are in good health. It should be emphasised that they are placed on a family planning method of birth control because they have a limited amount of room on the island and are therefore not allowed to procreate. Some of the chimpanzees are reintroduced into the wild to manage their population when the island's carrying capacity is reached. Reintroduction programs are carried out in a number of locations, including the chimpanzee-populated Kyambura Gorge, Budongo Forest, and Kibale Forest. Due to their easier integration into the group than men, girls make up the majority of the members taken for reintroduction.The chimpanzees that are brought to Ngamba Island are mostly rescued from poachers or orphaned babies.
Visiting Ngamba Island Sanctuary
Your trip at the Ngamba Island Chimpanzee Sanctuary will be one to remember. This should not be missed if you are travelling to Uganda, known as the Pearl of Africa. One of the top monkey sanctuaries in Africa, you'll get individualised service from a team that has received worldwide training and get to see the 49 resident chimpanzees up close and personal from a raised viewing platform that gives you a clear view of their behaviour and relationships.
Activities on Ngamba Island
You can engage in a variety of activities at Ngamba Island, in addition to getting a close-up view of chimpanzees, all of which are intended to make your trip interesting and unforgettable.
Day Trips

Overnight Excursion

Sunset cruises

Fishing

Volunteer Programs
Tour packages include;
1 Day Chimpanzee Visit
Visit the Ngamba Island Chimpanzee Sanctuary by boat on Lake Victoria for a chance to see chimpanzees feeding. Additionally, there will be opportunities for photography as well as sights to monitor lizards, birds, and other wildlife.
3 Day Ngamba Chimpanzee Safari
A small group guided trip with unique wildlife encounters, cultural connections, and overnight stays in our opulent cottage accommodations is available to you with flexibility and individualised services. Highlights include feeding chimpanzees, testing the chimps' critical thinking, preparing chimp nests, visiting fishing towns, taking a boat excursion at sunset, participating in a community cultural event, fishing locally, and viewing Borne Fires.
3 Day Honeymoon Package
You are invited to start your new life together on Ngamba Island, where the scenery is genuinely unique and wonderful. Enjoy three days of outdoor adventure and rustic relaxation while being attended to by a caring staff, chimpanzees, and other island wildlife. For people who enjoy thinking outside the box and desire to create a life filled with unique moments.
Adopt a Chimp program
"Did you know the chimps eat over 30,000 kilograms of fruit & vegetables every year?"
Would you be interested in acting as a guardian to help care for rescued and orphaned chimpanzees? An NGO called CHIMPANZEE TRUST was founded with the goal of "sustainably conserving chimpanzees in their natural habitat and providing the best possible care to those that cannot survive in the wild."
Over 50 orphaned and rescued chimpanzees reside at the Chimpanzee Trust-managed Ngamba Island Chimpanzee Sanctuary in the center of Lake Victoria. Our top priority is the welfare of the chimpanzees in our care, but we can only do that because of the kindness of the trustees, contributors, and other supporters. They depend on these people for food, shelter, medical care, and love.
The Guardianship program not only gives you the opportunity to help chimpanzees in need, but also recognizes your generosity.
Accommodation at Ngamba Island
Experience Ngamba Eco-Lodge.
Treat yourself to a magnificent East African experience at Ngamba Eco-lodge. Ngamba Eco-lodge, which is perched just above the lake's edge and offers stunning views of Lake Victoria, has all the comforts of home, including electricity, baths, hot water showers, and a private terrace.
There are 4 permanent luxury cottages; double rooming; 10 standard camping tents; double rooming; 5 standard camping tents; and single rooming.
For more details, you can reach Ngamba
Address
Plot 1, Bank Close. Entebbe, UGANDA
Emails and Phone
+256 414 320662/+256758221880
Website: https://ngambaisland.org/
What's Your Reaction?