The Ultimate Guide to the Nyege Nyege Festival in Uganda
A host of African artists were joined by acts from Europe and beyond on the banks of the Nile in southern Uganda for the region's premier music festival.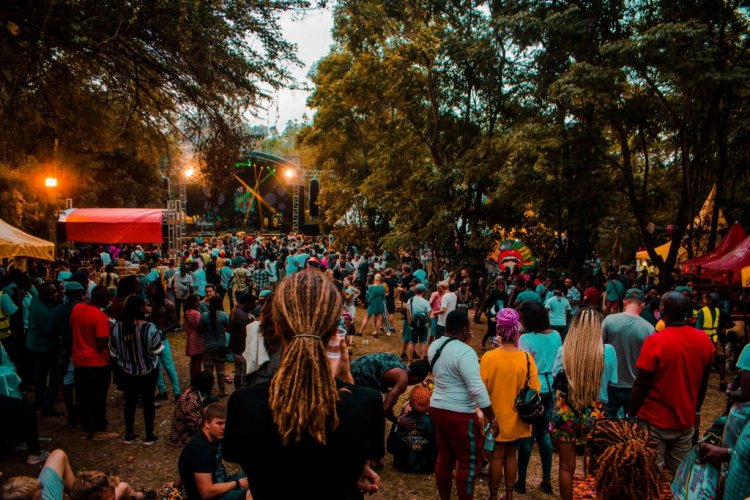 What is the Nyege Nyege Festival and what makes it so Unique?
Drawing the inspiration from the Luganda (one of Uganda's 43 languages) concept of 'Nyege Nyege' — an uncontrollable urge to dance, shake, and move (and also meaning 'horny, horny' in Swahili) — Nyege Nyege have defied colonial-era governments laws and religious critics, legitimizing themselves over recent years and standing a an essential hub for Africa's growing electronic music scene.
Nyege Nyege is a collective in Kampala, Uganda that promotes outsider music, primarily electronic, by African artists. It was founded in 2013 by expats Arlen Dilsizian and Derek Debru. In addition to organizing ongoing parties and an artist residency, the collective runs two record labels and a multi-day annual festival.
Nyege Nyege Festival was started in 2015 out of the need to give underground artists a platform and also showcase the exciting changes in contemporary music around the continent. Since then, every year in September, Jinja comes alive with music enthusiasts from all over Africa flocking the town to attend the festival.
History
Debru was born in Burundi but grew up in Belgium, moving to Uganda in 2010 to teach at the Kampala Film School. Dilsizian is Greco-Armenian and studied ethnomusicology before relocating to Kampala, also in 2010. In 2013, the two began throwing a party called Boutiq Electronique at late-night club Tilapia. Unlike other local parties, which played mainstream dancehall, reggae, and hip-hop, Boutiq was focused on African genres like kuduro and coupé-décalé. As the party's audience and reach grew, Debru and Dilsizian opened a recording studio in 2015 and began an artist residency to foster producers throughout Africa.
Artists affiliated with Nyege Nyege have toured throughout Europe and Asia, playing festivals including CTM and Unsound.
The Nyege Nyege Festival
Hosted in an abandoned tourist resort near the source of The Nile in Jinja near the town of Njeru, Uganda, Nyege Nyege Festival has expanded from an intimate musical experience, to thriving musical city hosting nearly 11,000 people over it's non-stop three-day runtime.
The Nyege Nyege Festival is a three-day festival that takes place in Uganda. The festival is usually held in the month of September and attracts hundreds of thousands of people from all over the world.
The festival was started as a way to bring people together and unite them through music, dance, and art. It also has a focus on sustainability and environmental awareness. The name "Nyege Nyege" means "to live life" or "to enjoy life" in Swahili, which is what the festival aims to do.
South African telecom company MTN has sponsored the festival since 2017, with the name changing officially to MTN Nyege Nyege. At 9,000 attendees, it is the biggest electronic music festival in East Africa. In 2018, Uganda's main tourism trade group named the festival the best overall tourism event of the year, repeating the award in 2019. Resident Advisor and FACT have named it one of the world's best electronic festivals.
The lineup focuses on East African artists, many affiliated with Nyege Nyege Tapes. It also includes performers and DJs from outside the continent, including Juan Atkins, Suzi Analogue, and DJ Scotch Egg, whose music is influenced by African sounds. British online radio station NTS brought a contingent of DJs to the 2017 festival, and streaming platform Boiler Room has hosted a stage since 2018.
NYEGE NYEGE 2022
Africa's essential electronic music festival Nyege Nyege is back in 2022 after a 2 year hiatus
With over 200 shows internationally, the festival and its associated labels and collective have defined the vanguard of new sounds emerging from the Continent. A festival built on love, resilience and passion for music, Nyege Nyege is going all-in this year, collaborating with collectives from across the Continent, as well as online radios invited to present at the festival; with a special emphasis this year on visual art installations, innovative stage design, a luxurious camping experience and new tourism activities, including rafting the Nile rapids all the way to the shores of the festival!
Nyege nyege date;
NYEGE NYEGE 22022
15th September - 18th September
NYEGE NYEGE festival tickets
You can purchase the event tickets from the nyege nyege official website; https://nyegenyege.com/tickets/
| | | |
| --- | --- | --- |
| | Early bird | Die Hard |
| EA CITIZENS | UGX. 130,000 | UGX. 100,000 |
| NON-EA CITIZENS | | USD. 65 |
Valid from Thu, Sep 15, 22 - Mon, Sep 19, 22 / Starts at 06:00 PM
What's Your Reaction?