There are ten islands in Uganda that are well worth a visit.
If you haven't experienced the tranquility of a hammock on a white sand beach on Lake Victoria or Lake Bunyonyi's magnificent dream islands, you're missing out. These are the top 10 most stunning islands in Uganda.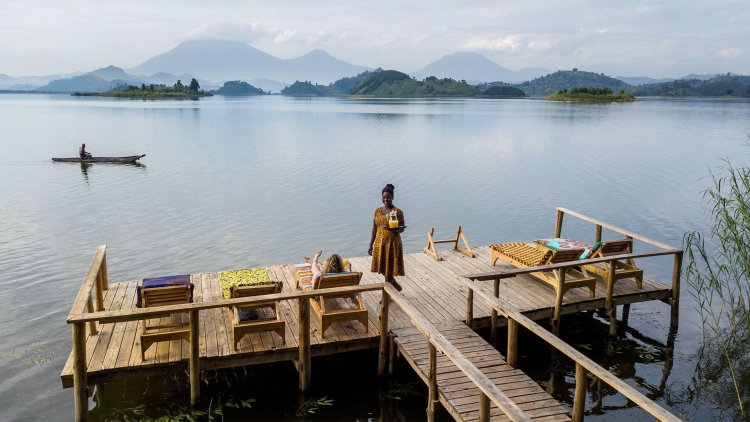 Great places to visit, those Ugandan islands!
Uganda's many lakes are home to more than 90 stunning islands. These Ugandan islands are a treasure trove of unexpected delights. Island hopping in Uganda is a fantastic way to view the sites and get some exercise. Sun, sandy beaches, fishing, swimming, nature walks on private islands, birding, horseback riding, biking, ATV-quad biking, fishing, boating, wind surfing, sunset cruises, and more await you on the safaris to the islands, the perfect backdrop for capping off a safari vacation in Uganda. The cultural sites of Mukasa and Wanema, island hikes, cave exploration, and various religious sites in Bumangi and Bungoma are just a few of the cultural offerings available on some of the islands.
Take a look at this list of our top Ugandan islands.
Sesse islands
It should be on everyone's list of things to do at least once in their lives to relax on a beach on one of the Ssese Islands. It's hard to imagine a more perfect place to read a book or take a stroll with your significant other than on one of the beautiful beaches. The beaches come alive at night with bonfires and parties under the clear sky.
Off the coast of Lake Victoria's northeastern shoreline is an archipelago of 84 stunning islands. With its idyllic setting in the middle of Victoria Lake, the Ssese Islands have the ability to bring in a wide variety of tourists for safaris in Uganda.
Looking up at a star-filled sky may be both restorative and entrancing. The island chain has a lot to offer in the way of beaches, greenery, and fauna, making it a desirable vacation destination for both nature enthusiasts and beach bums. If lounging on the beach or hiking If hiking through the woods isn't your thing, this Lake Victoria destination has plenty of alternative options.
The Ssese Islands are the largest in Uganda, and that's because they are incorporated into the Kalangala District.
Bugala Island
Travellers to Uganda's Buganda Islands can stay in first-rate establishments like the Brovad Sands Lodge in the region of Kalangala.
These islands are a paradise for birdwatchers and nature lovers. They have beautiful landscapes and a wide range of bird species that you can't find on any other East African island. It is possible to spot hippos in a swampy area of Buggala Island, close to the town of Mulabana. The islands are home to numerous species of birds and vervet monkeys. It's also possible to encounter monstrous snakes.
It takes three hours to travel by ferry from Entebbe to Bugala, the only island that is reachable from the mainland. If you've never seen a fire show before, you need to make time to do so.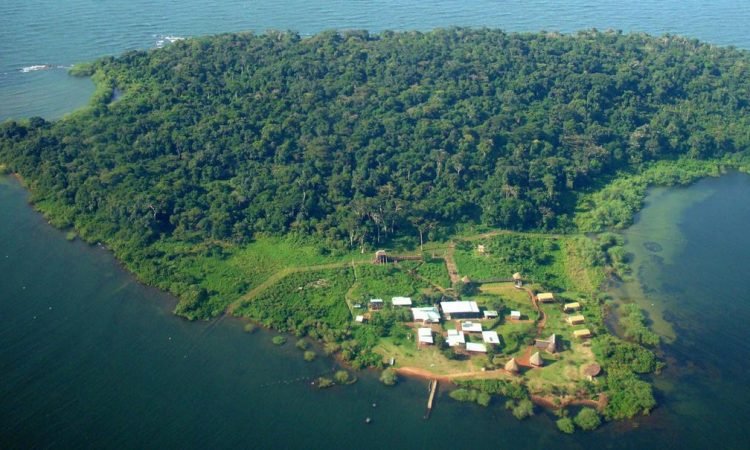 Ngamba Island
Ngamba Island is a tiny island in Uganda's Lake Victoria; it is approximately 100 acres in total, with 98 of those being covered by a rain forest. The chimpanzee sanctuary draws many people to this location, which is located 23 kilometres from Entebbe. Because of the chimpanzee sanctuary, the island is commonly referred to as "Chimp Island." Ngamba's chimpanzees are used to human visitors and typically don't run away when they see one. As a result, they are often observed in close quarters, especially during feedings.
Orphaned chimpanzees from all around Uganda that can't be released back into the wild are cared for at the Ngamba Island Chimpanzee Sanctuary. Ngamba Island in Lake Victoria welcomes visitors who may observe the twice-daily feeding operations and take guided tours of the island.
If you want to understand more about the sanctuary's mission and spend more time with the chimpanzees, you can stay the night in a tent camp.
Bubembe Island
Bubembe Island is a part of the 84 stunning Ssese Islands, often known as the islands of Lake Victoria. This beautiful island can be found in the Kalangala region, which lies northwest of Lake Victoria. According to Buganda religion, Mukasa, a famous oracle provider and friendly deity who never demanded any type of human sacrifice, chose Bubembe Island as the finest area where his messages might be received because of the island's proximity to his temple.
In addition to its rich cultural history, the island is home to rare plants, woods, and wetlands. The largely unspoiled landscape is home to a wide variety of avian species, including the whale-headed stork, herons, geese, grey parrots, kingfishers, fish eagles, weaver birds, flycatchers, hornbills, Turacos, paradise catchers, and many others. Waterbucks, hippos, crocodiles, colobus monkeys, vervet monkeys, and gorgeous butterflies are just a few of the wildlife that can be seen on Bubembe Island.
Bukasa Island
Bukasa Island is the second-largest island in Lake Victoria, and many people think it is one of the most beautiful places on the lake. Monkeys and birds abound in the island's dense forests. Attractions include a forest-encircled plunge pool with a waterfall.
Bulago Island
Small, equatorial Bulago can be reached in about an hour and a half by motorboat.
The sole resort on the island, Pineapple Bay, offers spectacular villas right on the beach, a fantastic restaurant, and an infinity pool. You can hike up to a mountain peak and take in the scenery.
Relaxing on a lounge bed with a Coke or other beverage of choice while basking in the sun is about all there is to do here. This island is perfect if you're in search of seclusion or an alternative experience.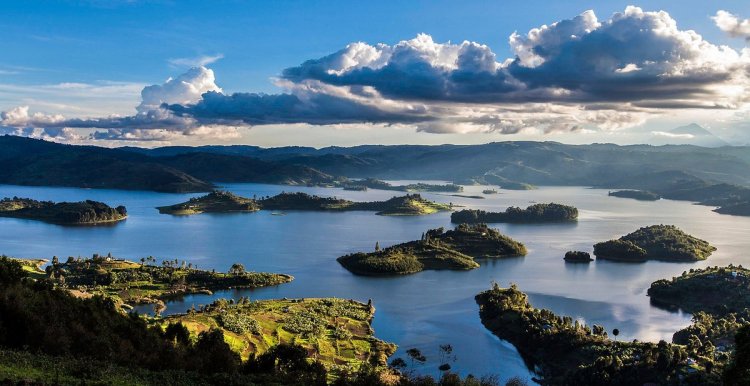 Bunyonyi Islands:
These several islands can be located in Lake Bunyoni, in the southwest of Uganda. The islands are beautiful and well worth a trip. The islands of Bunyonyi that are most well-known are Bwama, Bushara, Itambara, Akampene, and Akabucuanuka. Bwama is the biggest, and from the vistas and casual exploration chances, it is also a centre for the disabled. The best landscape can be found in Itambira. Since ancient times, the Bakiga people have used the island of Akampene as a place of punishment, hence the island's nickname.
Akampene Island
The Punishment Island, or Akampene Island, as it is more commonly known, is the most popular destination among the 29 islands. This island is one of the few that has never had humans settle on it because of its deep cultural roots. Once upon a time, the island was used as a kind of punishment for teenage girls who became pregnant outside of wedlock by being banished there and allowed to raise their children alone. Because of this practice, several young girls starved to death on the island. Girls were no longer taken to the island by ferry, but it is now a popular place for tourists to visit.
Bacuranuka island
Contrary to popular belief, Bacuranuka Island is not a typical tropical paradise. a mysterious and fascinating location. What is it about this island that makes it so exceptional? First of all, according to urban mythology, Bacuranuka Island isn't just any old island; it's an inverted island! This is an old story. An elderly lady supposedly once stumbled into some local guys brewing a beverage they called "obushera." She had asked if she might try some of the regional beers, but they had declined. The men then asked her to come with them to the mainland, which she gladly did. The island fell over and incinerated the men who were still there after she cursed it, the myth goes, when she stepped off the boat on dry land.
Tourists flock to the island that has been turned on its side to learn more about how it happened.
Kyahugye Island
Kyahugye Island is a popular destination for visitors to Lake Bunyonyi since it is easily accessible from the mainland via boat (rentals can be arranged through the lake's resorts, or visitors can simply show up on the shore). The fact that no other island in Lake Bunyonyi is home to any kind of wildlife has contributed to the island's notoriety. On this island, you may come across impalas, antelopes, waterbucks, zebras, and many more species of wild animals. Game viewing on this island is possible on a trip to Lake Bunyonyi.
Once you arrive, we suggest taking a stroll through the Eco Resort; there's a small admission fee, but a guide will be provided to ensure you view the animals. The round-trip fee for the boat journey is approximately £25 per person, no matter how many people are in your party.
Bushara Island
Almost all of the avian residents of Lake Bunyonyi may be found on Bushara Island, often known as the Bird Paradise. Birds such as the Harrier Hawk, Fan-tailed Widowbird, Pin-tailed Whydah, Red-chested Sunbird, Tropical Boubou, Grey-capped Warbler, Cinnamon-chested Bee-eater, Paradise Monarch Flycatcher, and Red-billed Firefinch are just a few of the over 200 species that call Lake Bunyonyi home.
Bushara Island Camp is the starting point for gorilla trekking, a haven for birdwatchers, and a secluded spot for those in need of some peace and quiet. Day-trippers, families, and weary travellers all find solace in this tiny island's peace, tranquillity, and natural beauty.
Other Islands: There are many more other islands that are worth exploring. They include Bufumira, Banda, Nsirwe Island, Bugaba, Bubembe, Funve Serinya, Kitobo Islands, etc
The majority of these islands can be found in either Lake Victoria or Lake Bunyonyi, and each one has its own unique history. There is a wide range of lodges available, from those catering to families to those specialising in honeymoons and the like.
Leave a comment if you'd like to see us include an island in Uganda on our list.
What's Your Reaction?